GoH - Ken MacLeod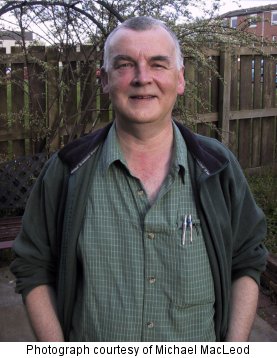 The committee is delighted to announce that the Guest of Honour at Satellite 1 will be the well-known Scottish SF author Ken MacLeod.
Born in the mid-1950s in Stornoway, Isle of Lewis, Ken MacLeod studied zoology at Glasgow University before moving to London to undertake a Masters degree (by research) at Brunel in the field of biomechanics. He then worked as a computer analyst/programmer before becoming a full-time writer.
Ken MacLeod is one of a group of UK writers specialising in "hard SF". A particular feature of his work is the combination of the exploration of space with the exploration of socio-political ideas. His strong background in science is evident in his creation of believable alien races and future technologies. His work has attracted a BSFA Best Novel Award (The Sky Road, 1999) and two Prometheus Awards (The Star Fraction, 1996, and The Stone Canal, 1998). He has also received several nominations for Arthur C Clarke, Hugo and Nebula Awards.
Ken MacLeod is a well-known attendee at British SF conventions. He now lives in West Lothian with his wife and three children.
Fall Revolution Series
The Star Fraction, 1995
The Stone Canal, 1996
The Cassini Division, 1997
The Sky Road, 1999
Engines of Light Series
Cosmonaut Keep, 2000
Dark Light, 2001
Engine City, 2002
Other Novels
The Human Front, 2001
Newton's Wake, 2004
Learning the World, 2005
The Execution Channel, 2007
Ken Links
Ken's Wikipedia entry.
Orbit Books' biography.
Ken's Blogspot.